Monthly e-cigarette sales rose by nearly 50% during first 2 years of pandemic: CDC
ACTA
Researchers say the sales were primarily driven by fruit and candy flavors.
Monthly e-cigarette sales skyrocketed during the first two years of the COVID-19 pandemic, according to a new study published Thursday by the Centers for Disease Control and Prevention.
Between January 2020 and December 2022, monthly unit sales increased by 46.6%, from 15.5 million units to 22.7 million units, the study found.
Researchers found the surge was mostly driven by disposable e-cigarettes in flavors, including fruit and candy, which are popular among youth and young adult users.
Over the period, the share of total sales made up by tobacco-flavored products fell from 28.4% to 20.1%, and the share of mint-flavored products saw a similar decline from making up 10.1% of all sales to 5.9%. Meanwhile, other flavors went from 29.2% of all sales to 41.3%.
Additionally, while the share of pre-filled e-cigarette cartridges decreased from 75.2% to 48% of total sales, the share of disposable e-cigarette units increased from 24.7% to 51.8% of total sales.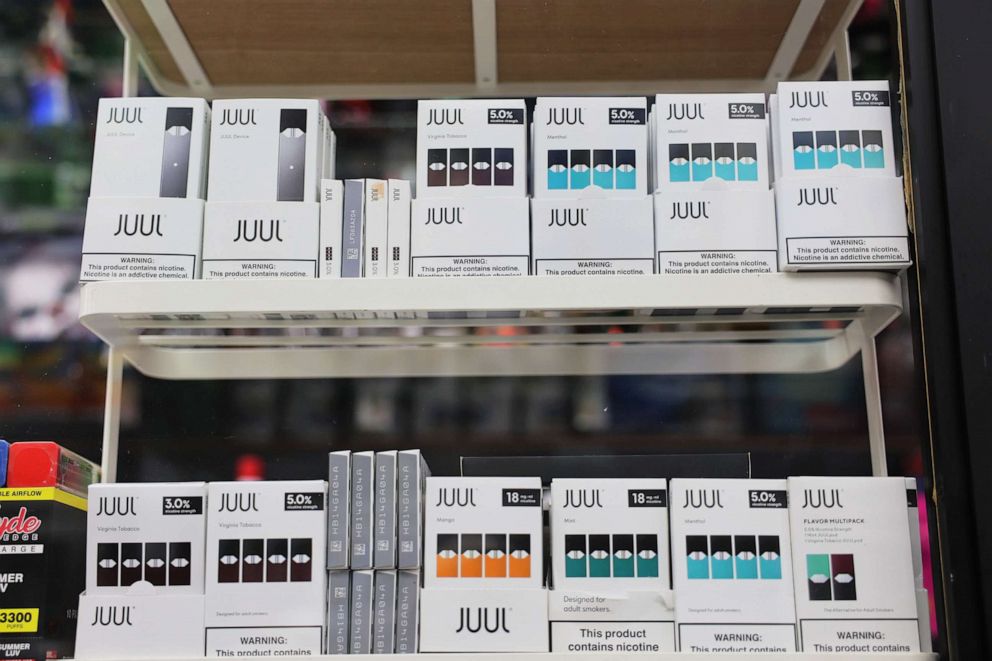 The study found this may be due to an announcement the U.S. Food and Drug Administration made in January 2020 that prioritized enforcement against prefilled cartridges in flavors other than tobacco and menthol.
While total sales increased during this period, there was a 12.3% decrease between May 2022 and December 2022, which the CDC said may have been driven by multiple factors, including FDA regulatory actions, local and state e-cigarette restrictions and supply chain disruptions linked to COVID-19.
The study also looked at the top-selling brands. At the start of the study period in January 2020, JUUL was the top monthly seller, followed by Vuse, NJOY, My Blu and Puff, respectively.
By the end of the study period in December 2022, Vuse was the top-selling brand, followed by JUUL, Elf Bar, NJOY and Breeze Smoke, respectively.
"The dramatic spikes in youth e-cigarette use back in 2017 and 2018, primarily driven by JUUL, showed us how quickly e-cigarette sales and use patterns can change," Dr. Deirdre Lawrence Kittner, director of the CDC's Office on Smoking and Health, said in a press release. "Retail sales data are key to providing real-time information on the rapidly changing e-cigarette landscape, which is essential to reducing youth tobacco use."
The CDC noted in its report that e-cigarette use is more common among young people than adults overall.
In 2021, 4.5% of all adults aged 18 and older used e-cigarettes at least once in the last 30 days compared to 11% of adults between ages 18 and 24 and 14.1% of high school students.
Nicotine exposure from e-cigarettes can hinder brain development in adolescents and young adults, which can continue into the mid-20s, the CDC says, and can also increase risk of addiction to other drugs.
The CDC also says aerosol from e-cigarettes can contain heavy metal, potentially cancer-causing chemicals and other substances that can damage the lungs.
The CDC states "use of e-cigarettes is unsafe for kids, teens, and young adults."