Vaping: Free e-cigarettes to be handed out in anti-smoking drive
ACTA
One million smokers will be given a free vaping starter kit to encourage them to give up tobacco products.
A consultation will be launched on compelling cigarette manufacturers to put advice on quitting inside packs.
But charities have warned swapping cigarettes for vapes is "nowhere near sufficient" in tackling addiction.
The plans also include a crackdown on underage and illicit vape sales.
Almost one in five smokers in England will receive a kit alongside behavioural support, the government said.
In a speech on Tuesday, health minister Neil O'Brien described the the free vape policy – dubbed "swap to stop" – as the first of its kind in the world.
"Up to two out of three lifelong smokers will die from smoking. Cigarettes are the only product on sale which will kill you if used correctly," he said.
It is estimated that 9% of women still smoke during pregnancy in England, and the government says local trials indicate that financial incentives and behavioural support can be effective.
The Department of Health and Social Care (DHSC) said it would set out details on how this scheme will work "in due course".
Local authorities are being invited to join the first wave of areas taking part in the free vape policy, before a larger national scheme is rolled out over the next two years.
Officials estimate it will cost around £45 million and is set to be funded from the health department's budget, but administered by local authorities.
Deborah Arnott, chief executive of the Action on Smoking and Health campaign, said the policy announcements are "welcome steps in the right direction".
But she warned the moves are "nowhere near sufficient" as the target date for England becoming "smoke free" by 2030 nears.
She said: "Vapes increase smokers' chances of successfully quitting, as do vouchers for pregnant smokers, so these are welcome steps in the right direction, but they are nowhere near sufficient."
Sarah MacFadyen, from charity Asthma and Lung UK, said tackling addiction was more complex than just swapping cigarettes for vapes, saying "what smokers need is stop smoking services offering personalised support".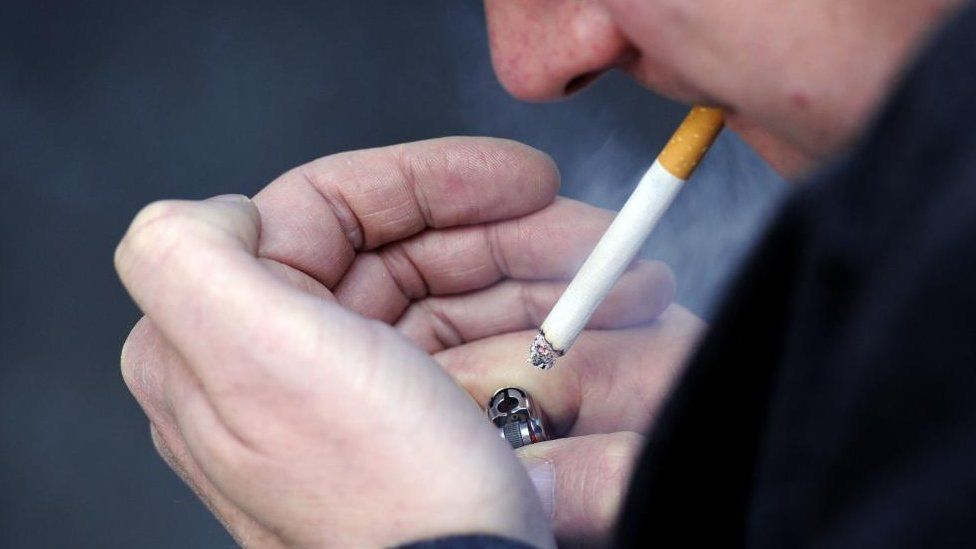 In 2019, ministers pledged to end smoking – defined as getting rates below 5% – by the end of the decade. As of 2021, smoking prevalence in England was 13%, the lowest on record.
But a review of the 2030 target published last year warned it will be missed by at least seven years without further action.
Its author, Dr Javed Khan, called for a range of new measures, including a ban on smoking at outdoor spaces such as beaches and beer gardens.
He also proposed increasing the age of sale from 18, by one year, every year, "until no one can buy a tobacco product in this country".
The same report recommended promoting vaping as an alternative to tobacco, but said e-cigarettes are not a "silver bullet" or "totally risk free".
While the government wants to encourage adult smokers to swap cigarettes for vapes, there are concerns about the rising popularity of the products among children.
NHS figures released last year revealed 9% of secondary school pupils use a vape regularly or occasionally, including almost one in five 15 year olds.
A full consultation on how young people can be discouraged from taking up the habit is also being launched on Tuesday.
Other countries are taking different approaches to e-cigarettes and smoking – with many countries banning vaping, including Thailand, Sri Lanka, Mexico, Iran, India and Argentina.
According to the Australian government website, it is illegal to possess or use any nicotine vaping products without a prescription from a doctor. It is also illegal to smoke cigarettes and e-cigarettes in enclosed public places such as trains, planes and buses.
Meanwhile, Turkey has banned the sales of e-cigarettes although it is not actually illegal to vape in the country.
Source: BBC
Disclaimer:
This article was originally published by  BBC and does not in any way reflect the views and principles of ATCA. It is categorized under "Tobacco Industry News" to expose the tactics and strategies utilized by the tobacco industry to undermine public health.