Pro-tobacco lobbyists circle Australian government's proposed vaping reforms
ACTA
As the TGA considers at least 4,000 submissions, tobacco companies appear to be heightening lobbying efforts
An international pro-vaping group, supported by British American Tobacco, has hired an Australian lobbyist amid proposed government reforms that could see tightened access to nicotine vaping products.
In February, Michael Kauter – a former deputy director of the Nationals and a key lobbyist for the tobacco industry – added Swiss-based Health Diplomats to the federal lobbyist register.
It's not yet clear why the group, which has connections to British American Tobacco, has hired Kauter.
Health Diplomats' move comes as drug regulator the Therapeutic Goods Administration (TGA) considers at least 4,000 submissions to its consultation on proposed vaping reforms, prompting tobacco companies to heighten their lobbying efforts.
In November, the federal health minister, Mark Butler, announced that vaping reforms would be introduced, strengthening the current rules that make it illegal to sell, supply or possess an e-cigarette containing nicotine without a doctor's prescription.
Guardian Australia understands the TGA is now finalising its report to government.
Kauter told Guardian Australia that Health Diplomats had not asked for a meeting with politicians or the TGA, or made a submission to the TGA consultation. He did not comment on the group's aims in Australia.
According to Health Diplomats' website, the group's goal "is to increase smokers' access to innovative, non-combustible forms of nicotine delivery, thereby improving smoking cessation and global health".
The website includes vaping resources and describes how "our current work, in advancing tobacco harm-reduction policies, science and products, is in partnership with Nicoventures, a subsidiary of the British American Tobacco company".
Research group Tobacco Tactics found the Health Diplomats CEO, South African doctor Delon Human, had collaborated with British American Tobacco.
Human's 2010 pro-vaping book on tobacco harm reduction, Wise Nicotine, received funding from British American Tobacco, according to the foreword of the book, which also states that "the statements, findings, conclusions and recommendations contained in the book were developed independently of BAT".
Human has been contacted for comment on why the group has engaged a lobbying firm in Australia.
Kauter's other clients include British American Tobacco and the Australian Lotteries and Newsagents Association, whose corporate members include British American Tobacco, Imperial Tobacco and Philip Morris International.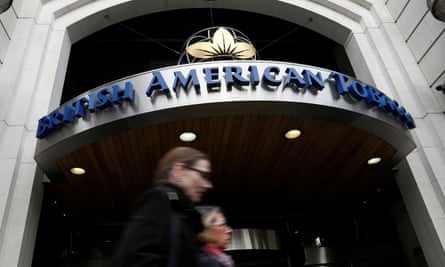 British American Tobacco's moves
British American Tobacco appears to have increased its presence in Australia, with the federal lobby register showing that as of 3 February the company has signed up as a client of Jeremy Greenwood's firm, JPG Advisory.
Greenwood is a former adviser to the Nationals senator Matt Canavan, who supports the legalisation of vaping. His past clients include a major vaping company, Vapoureyes, and the National Retail Association, which also backed the pro-vaping campaign.*
British American Tobacco also appears to have provided support to pro-vaping lobby group Responsible Vaping Australia, which represents retailers including tobacconists, corner shops and independent supermarkets such as IGA.
While the group's website does not note the connection with British American Tobacco, the "about" section of its Facebook page states the page was "created and is run by BAT Australia", although it does not note that BAT stands for British American Tobacco.
Responsible Vaping Australia has run pro-vaping advertisements on Facebook since December, linking to a petition calling on the government to allow retailers to sell nicotine vaping products.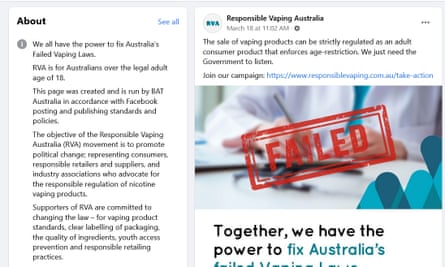 Both Responsible Vaping Australia and British American Tobacco have been contacted for comment.
Responsible Vaping Australia claims on its website that the current regulatory model, which makes it illegal to buy nicotine vaping products over the counter without a prescription, is a "prohibitive" approach that has created "a thriving black market run by illegal operators who will sell to anyone including children". Research has shown children are easily and frequently buying their nicotine-containing vapes from such retailers, and are rarely asked for ID.
Responsible Vaping Australia has been trying to enlist the bars, hotels and clubs sector to sign up to its petition to get vaping legalised for consumers without a prescription.
Source: The Guardian
Disclaimer:
This article was originally published by The Guardian and does not in any way reflect the views and principles of ATCA. It is categorized under "Tobacco Industry News" to expose the tactics and strategies utilized by the tobacco industry to undermine public health.