Qatar World Cup is Hijacked to Advertise Tobacco
ACTA
Tobacco companies in Indonesia, India and Mexico circumvented international football governing body FIFA's advertising ban on their products by associating them with the World Cup, according to a new social media analysis by public health group Vital Strategies.
Data recorded by Vital Strategies' digital media monitoring system found 354 instances of tobacco marketing in public posts across Facebook, Instagram and Twitter between September to December 2022 around the World Cup in Qatar.
The overwhelming majority of posts (92%) originated in Indonesia, followed by India (6%) and Mexico (2%). Over 70% of the marketing instances were found on Instagram.
"Despite tobacco being the antithesis to athleticism and health, tobacco marketing on social media platforms continues to use sports to mislead youth and hook them on these deadly products," said Nandita Murukutla, vice-president of global policy and research at Vital Strategies.
"As traditional marketing channels shut out tobacco promotion, tobacco marketers have set their sights on social media to connect their products with sports, especially football, and have a direct channel to youth."
Global regulatory efforts continue to struggle to reign in the prevalence of tobacco, which remains the leading cause of preventable death in the world, claiming more than eight million lives a year.
The largest advertising opportunity in the world

FIFA banned tobacco advertising, promotion and sponsorship from the World Cup in the late 1980s. The last World Cup to feature a tobacco sponsor, RJ Reynold's Camel, was held in Mexico in 1986.
But the unparalleled reach of the world's most popular sports tournament makes it a one-of-a-kind opportunity for tobacco companies, and many still use the World Cup to market their products on the local and national level.
The opening match between host Qatar and Ecuador – a decidedly low-stakes affair – pulled in 550 million viewers, FIFA said, while the historic final between Argentina and France glued some 1.5 billion people around the world to their televisions. The tournament also generated almost six billion engagements on social media, resulting in a cumulative reach of 262 billion accounts.
"FIFA's ban on tobacco promotion is a good first step, but by itself lacks teeth," said Sandra Mullin, senior vice president for policy, advocacy and research at Vital Strategies. "FIFA and football celebrities must work more actively and explicitly to distance themselves from the tobacco industry by calling out its underhanded youth-oriented marketing practices."
FIFA took its first overt step to fight tobacco use during the 2002 World Cup when it joined forces with the World Health Organization (WHO) to ban smoking on the tournament grounds for the first time. In Qatar in 2022, Qatar's Ministry of Health, the WHO and FIFA partnered to implement the most stringent anti-tobacco measures ever applied at the World Cup – policies which were highly publicized.
Indonesian tobacco giant Djarum left to freely market to children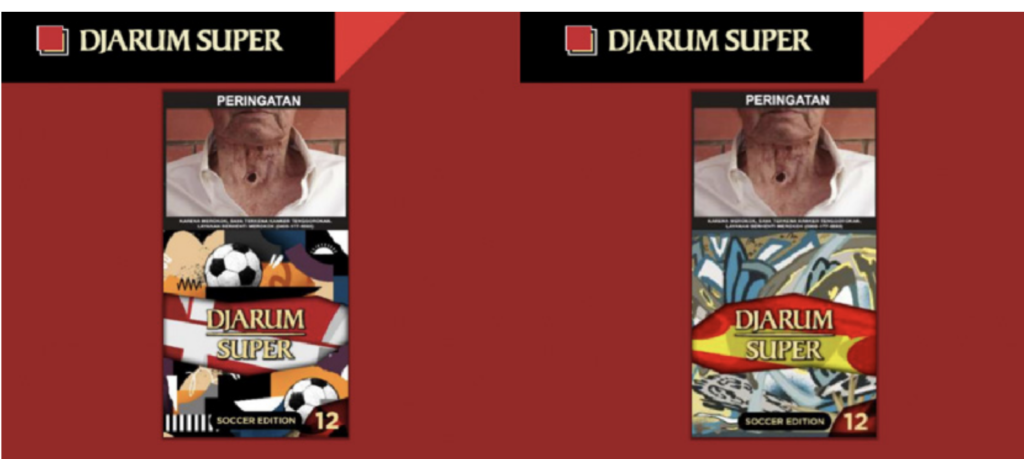 Indonesian tobacco giant Djarum, identified by Vital Strategies as the largest offender hijacking the World Cup to advertise its tobacco products, has a long history of associating itself with sports.
The company runs "corporate social responsibility" schemes that award scholarships to children for badminton, one of Indonesia's most popular sports, and runs national football programmes for youth players. Djarum was also the main sponsor of Indonesia's pro football league from 2005 to 2011 and purchased Italian football club Como 1907 in 2019.
Djarum's history of football-related branding made the World Cup a unique opportunity. The company quickly moved to capitalise on fan enthusiasm around the tournament to market limited-edition World Cup cigarette packs featuring colourful designs created by local artists. The campaign appears to be a clear attempt to market to children as studies have found colourful packing increases youth susceptibility to smoking.
Through its affiliate brand Djarum Super Soccer, whose social media accounts share football news and highlights to over one million combined followers, the company promoted the "Soccerphoria" event series. These watch-party cum festivals unfolded across four major cities with a combined population of around 16.5 million, including the capital, Jakarta, and featured live World Cup matches, concerts, mural painting, and stalls selling branded clothes and other Djarum merchandise.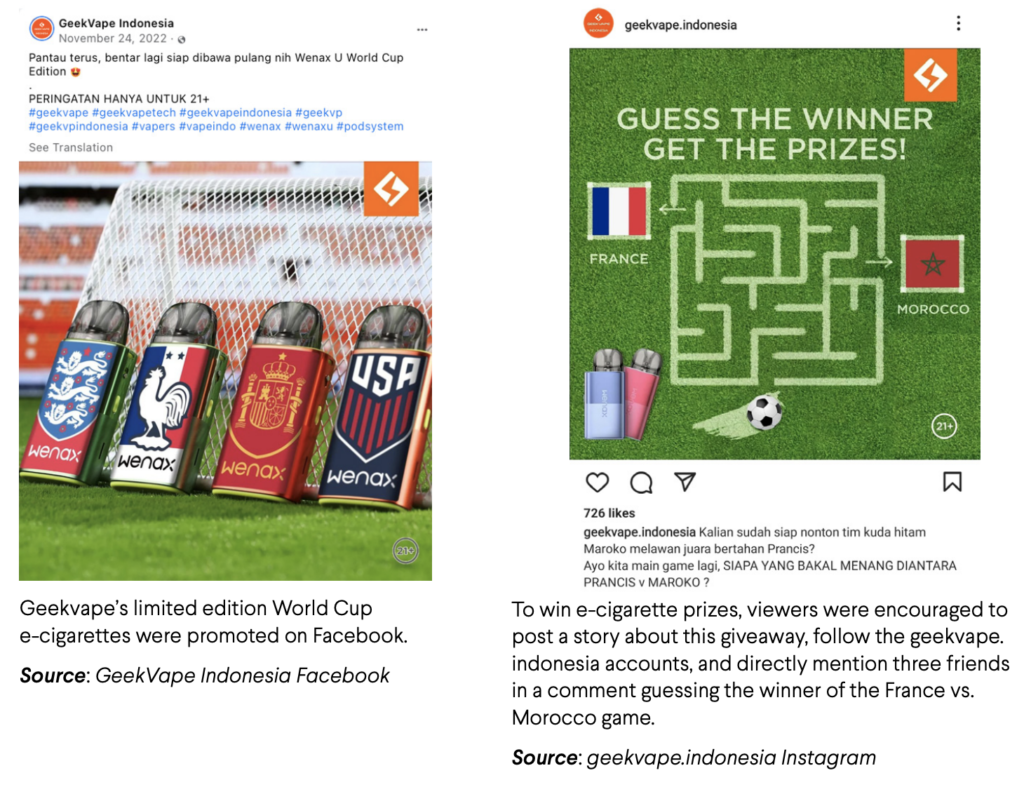 Danilla Riyadi and Jason Ranti, two popular Indonesian musicians who took part in the tobacco-branded festivities, have nearly two and a half million combined followers on Instagram alone.
Geekvape, the e-cigarette manufacturer and official partner of French football giant Paris Saint-Germain, also sold special edition World Cup e-cigarettes in Indonesia.
Indonesia is notorious for its lax approach to regulating tobacco and its marketing. The country is home to the second-largest cigarette market in the world and the third-highest number of smokers behind India and China.
Nearly two-thirds of men over the age of 15 and 19.2% of youth aged 13 to 15 (including 35.6% of boys) use tobacco. The government has been slow to reign in the country's tobacco giants, and commitments to raise excise tax for tobacco products have so far failed to curb the explosion of smoking rates among its youth.
The advertising efforts of tobacco giant Djarum to market to young people through sports – and parallel government inaction – are likely to worsen the crisis.
Tobacco companies shift gears in India, matching global advertising trends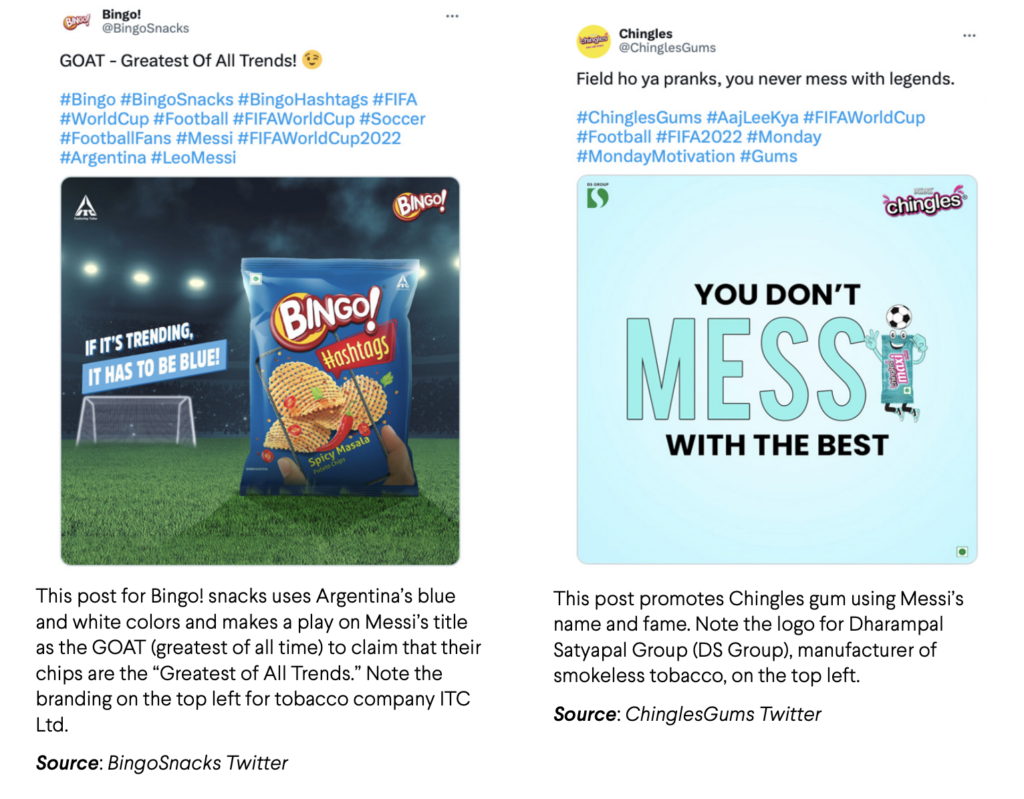 In India's tougher regulatory environment, tobacco companies pivoted to a new strategy to profit from the World Cup: marketing affiliate brands.
While there was no direct marketing for tobacco products related to the 2022 World Cup in India, Vital Strategies uncovered extensive advertising campaigns pushing ultra-processed food brands owned by tobacco giants. Some brands clearly displayed the tobacco company logo in the corner of images promoting crisps.
Tobacco advertising, promotion and sponsorship have a long history in India, notably in the highest levels of cricket, the country's most popular sport, but the shift away from tobacco towards ultra-processed foods is in line with wider developments in football advertising around the world.
Ultra-processed foods and alcohol, like tobacco, are well-established risk factors for non-communicable diseases, yet they continue to be marketed ubiquitously across international football leagues and tournaments.
Budweiser and McDonald's were the key sponsors for the 2022 World Cup, while Coca-Cola was an official partner. A viral ad by Pepsi featuring stars like Lionel Messi, Paul Pogba and Ronaldinho links Pepsi to footballing greatness.
Meanwhile, a study on the 2018 World Cup found that around 1,806 advertisements for alcohol and ultra-processed foods were played during just 13 matches on British television networks, making around 7.5 billion impressions.
The e-cigarette problem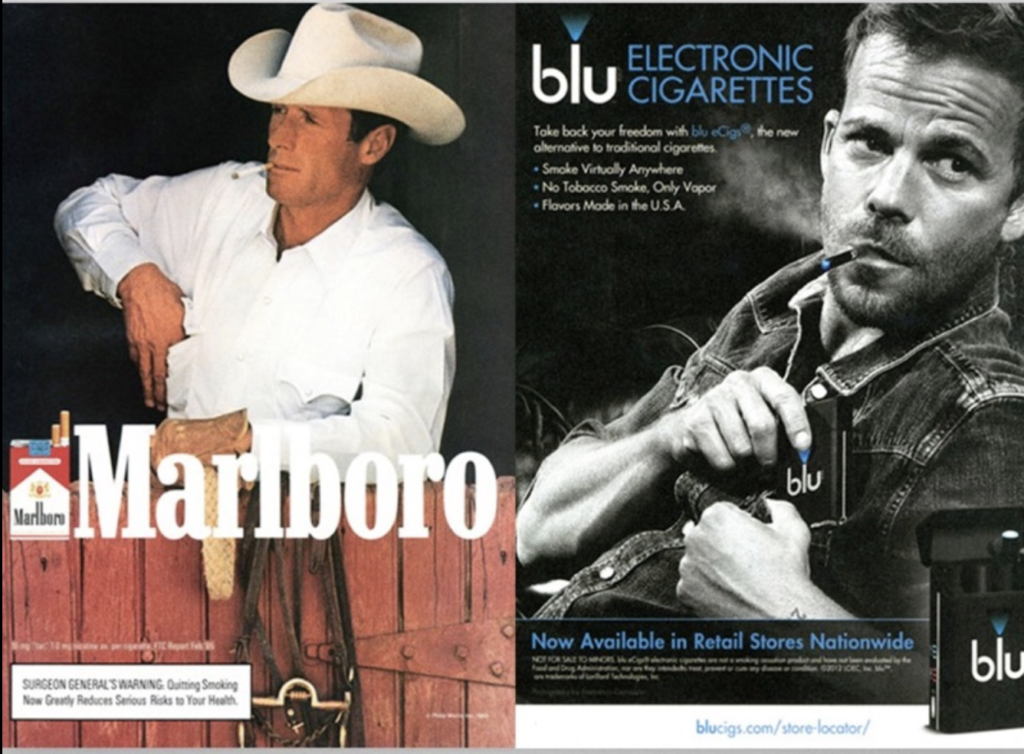 Vital Strategies' analysis observed that several online retailers used images of football players to promote e-cigarettes, often with World Cup-related promotions featuring pictures of football players alongside e-cigarette products and discounts.
One such post featured Guillermo Ochoa, the goalkeeper of the Mexican national team, holding an e-cigarette and exhaling smoke through his nose, with the caption "Vamos Mexico," linking e-cigarettes with national pride and a beloved figure. Other promotions linked e-cigarette use with friendship and community, similar to how football is seen as a common interest that brings people together.
Tobacco advertising and sponsorships are not allowed in Mexico's national football league, but e-cigarettes can still be advertised to Mexico's 45 million Formula 1 fans at racing events like the Mexico Grand Prix.
The e-cigarette industry is estimated to grow to $46.9 billion in the United States alone by 2025. All major tobacco companies now own at least one e-cigarette brand.
Studies on the health effects of e-cigarettes and vapes are still in their early stages but have so far found them to be less dangerous than tobacco.
While major study by King's College London found "drastically lower" levels of exposure to cancer and other toxicants in people who vape compared to smokers, the report's lead author, Ann McNeill, said that "the evidence we reviewed indicates that vaping is very unlikely to be risk-free".
However, said McNeill, professor of tobacco addiction at King's College London, "smoking is uniquely deadly and will kill one in two regular sustained smokers".
"We strongly discourage anyone who has never smoked from taking up vaping or smoking," she said.
Regulators in the European Union and United Kingdom have already banned the advertising of e-cigarettes, but much of the world has yet to follow suit.
Source: Health Policy Watch